Zumbrota Health Services
Employee of the Quarter
Zumbrota Health Services (ZHS) recognizes outstanding employees who have made a significant contribution within the facility each quarter. It also offers an opportunity for all employees to recognize their peers for their exceptional job performance.
There are nine different criteria that a candidate must meet in order to be nominated; a positive attitude, provides service that reflects St. Francis Health Services' Core Values, and carries out additional responsibilities beyond their regular job assignment.
Angela Walker, Bath Aide/NAR at Zumbrota Health Services, was awarded Employee of the 2nd Quarter – 2017! Angela joined the ZHS family this past April as a Bath Aide/NAR and has joyfully embraced the service ethic set forth by St. Francis Health Services with her positive attitude and empathetic nature. She is above all a caring health care professional that goes out of her way to bring joy to the residents of ZHS!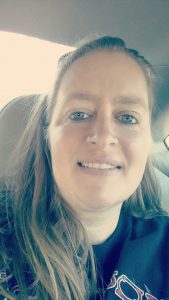 Angie is the youngest of three, and considers her parents Heroes as they always worked hard to give them a good life and always made them feel loved and cared for. Her mother used to work at ZHS, enabling Angie and her sister opportunities to visit with the residents.  Angie knew then that her passion was helping the elderly.  Her career started at the age of 12 when she began babysitting and at age 14 became a Candy Striper at the Zumbrota Hospital.  Two years later she became a NAR and continues to love it 25 years later!  She states she has learned so much over the years and still enjoys learning new things.
She is an animal lover, especially dogs (she owns three!) and horses. Angie has an 18 year old daughter, Victoria, step-daughter, Danielle and a step-granddaughter, Lauryn whom she adores spending time with.  She also enjoys visiting time with her niece and great nephew.  Her hobbies include 4-Wheeling with her sister and good friends, and most recently has begun to travel.  Her goal is to visit every state in the United States!  She looks forward to being with friends and family and spending quiet time reading and sitting near a river relaxing.
As the Employee of the Quarter, Angie was presented with a certificate of recognition as well as being recognized in ZHS' publications, a 10-meal punch card from the facility, an Employee of the Quarter shirt, parks in an honorary parking spot during her reign, and is entered into the Employee of the Year drawing that will be held during the Annual Recognition event in February, 2018. The winner of the Employee of the Year will be presented with a weekend get-away at the Fitgers Hotel in Duluth, MN!
Congratulations, Angie! We are honored that you are a part of our Zumbrota Health Services family!